Police - Training
Lower Saucon officers take part in multiple levels of training covering many subjects. Some of this training is performed in-house, and some requires travel to outside agencies or locations.

Some of our more robust in-house training programs include:

Defensive Tactics - Officer Chuck Werkheiser
The response to and best method of coping with a confrontational situation is always a challenge to police. Certified Instructor Werkheiser conducts annual training with each of our officers to maintain preparedness for volatile incidents.

He has made use of lecture, video, a variety of training aids, and scenarios with paintballs and other training weapons, to practice the most appropriate use of force. His abilities continue to make the department a more prepared police force and ensure that our officers are ready to accept whatever challenges they may face.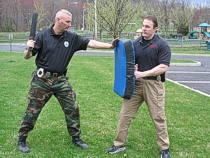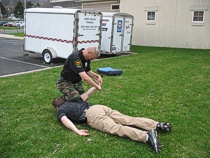 Firearms Training
- Officer Willie Shelly
To stay prepared for the most extreme actions an officer must take, all officers are required to pass an annual firearms training course conducted by our Officer Shelly, who is certified by the National Rifle Association (NRA) as a police handgun/shotgun instructor and patrol rifle instructor.
All officers practice on a regular basis several times throughout the year and are qualified annually at firearms ranges within the township. The departmental qualification courses include police handgun, shotgun, and patrol rifle, which are carried in each patrol vehicle, as well as the officer's off-duty weapons. Officers also train in various shooting drills in daylight and low-light conditions, weapon maintenance and safety, as well as a review of weapon handling and use policies.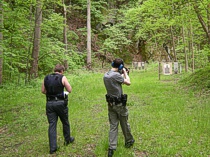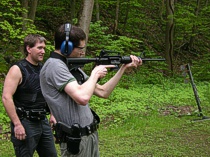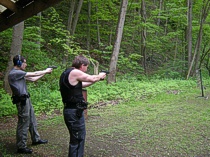 Field Training
- Corporal Timothy Connell, Detective Christopher Leidy & Officer Chuck Werkheiser
All new members of the department participate in a thorough field training program instructed by Corporal Connell, Detective Leidy and Officer Werkheiser, who have attended a Field Training Officer instruction course provided by Penn State University. The program guides new officers through multiple training levels including patrol, report writing, incident handling, and other items. The new officer is then critiqued by the Field Training Officer who recommends to the Chief of Police when the officer is ready for patrol on his own. Officers also attend a variety of training both inside and outside the department, including annual updates prescribed by the Municipal Police Officer's Education and Training Commission (MPOETC).