Police - Investigations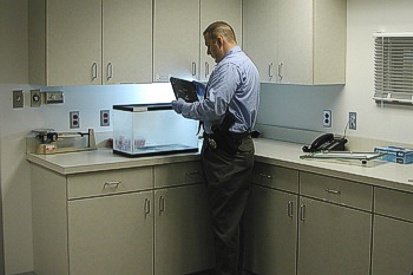 The Lower Saucon Township Police Department established the Full-Time Detective position in August of 2005, which was filled by Detective Corporal Christopher Leidy. The need for this position became evident as Lower Saucon Township continues to experience population growth and increasing call volume. The Detective handles all serious crimes and offenses which take a considerable number of hours to properly coordinate and pursue all leads. The Detective also supervises and coordinates investigations handled by the other members of the department.

The Detective is also one of five Criminal Identification officers; these officers have additional training and crime processing equipment which will continue to be supplemented in the future.

The four additional C.I.D. officers are assigned, one to each of our patrol teams which are deployed to provide 24/7 coverage. Detective Corporal Leidy investigator@lowersaucontownship.org has been employed by the department since 1997 and was previously appointed as the Township's very first K-9 handler in 2000.

At a Lower Saucon Township Council meeting on Wednesday, April 2, 2014, Detective Corporal Christopher Leidy was presented by Chief Guy L. Lesser with a commendation for his significant role in helping the police department achieve the status of Accredited Law Enforcement Agency under the Pennsylvania Law Enforcement Accreditation Program. Detective Corporal Leidy, who has served with the LSTPD since 1997, and in addition to completing his normal duties and assignments, has focused on completing the required tasks to reach the assessment stage of the accreditation process. Following a mock assessment in October 2013, and full assessment in November, the department was recommended for approval and received accredited status at the Pennsylvania Law Enforcement Accreditation Commission meeting in Harrisburg, PA.

Leidy acted as the Accreditation Manager and oversaw a program that contains over one-hundred standards, each of which needed to be analyzed relative to its application for and impact on the department. Additionally that policies and procedures be amended, building and equipment alterations and adjustments to be completed, officer training be reviewed and updated to insure its compliance, and that well-organized documentation containing proofs be prepared for each item. His ongoing commitment, attention to detail, and persistence over time to coordinate all necessary tasks, while still performing the duties of his other assignments, has resulted in a more professional police department, one of the approximate 10% of all police departments in Pennsylvania worthy of accreditation.