Police - Programs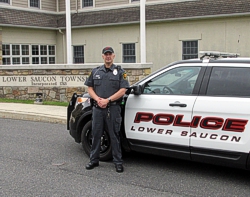 D.A.R.E. Program
The Drug Abuse Resistance Education program, or D.A.R.E., provides education for school-aged children about the negative effect that drugs have on our minds, bodies, and communities.

Students also learn ways to resist confrontations and to resolve disputes without violence. D.A.R.E. Officer Kyle Haggerty has been teaching the program at the Saucon Valley Elementary School since 2012.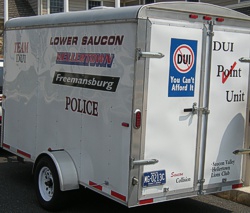 DUI Program
DUI Coordinator Rob Winters utilizes our DUI Program as an additional tool to combat the terrible effects that drunk driving has on our community. The program is funded by Federal and State grants through the Pennsylvania Department of Transportation.

An average of two events are scheduled per month and consist of DUI Checkpoints, Roving Patrols, and Cops in Shops. The events not only involve our department but also the Hellertown and Freemansburg Police Departments. The efforts of all the fine officers involved help to make the streets we travel much safer.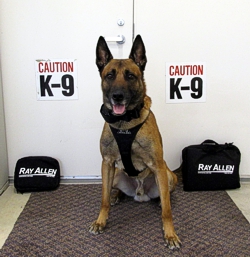 K-9 Unit
Our dedicated K-9 Team, Officer Steve Kunigus and his partner Atos are an integral part of the Lower Saucon Township Police Department. Atos recently joined the department in May 2013 as the Township's third full-time service dog, replacing the retiring Brutus who served since 2008. We are confident that Atos will play an important role in numerous incidents including tracking, building and drug searches, vehicle stops, and community activities. His ability to perform under demanding situations with great skill and yet stay calm in the presence of children and the public will be a testament to the team's initial and ongoing training.

The K-9 Team has greatly increased our officers' ability to locate illegal drugs in a variety of circumstances, and his tracking ability is beneficial in searches for individuals. Their presence has and will continue to provide a safer atmosphere for officers and citizens at events such as the Motorcycle Hill Climb and during routine patrol.

Our K9 Team of Officer Steve Kunigus and his partner Atos were recently featured on The PEAK TV, which is a weekly 30-minute health and wellness program airing on WFMZ Channel 69. You can view the entire episode, or just the segment they appeared in, on The PEAK TV website here.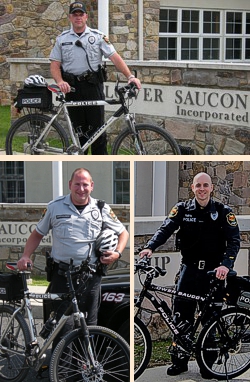 Bicycle Patrol
You may have seen one or more of our Lower Saucon Bike Officers in action along your neighborhood streets, Officers Eric Marth, James Connell, and Kyle Bartholomew.

Since 2007, officers have logged over 4,977 miles in several Lower Saucon neighborhoods, and more recently our Rails-to-Trails, enabling our officers to routinely patrol some areas in a manner not as accessible with other police vehicles.

We have received positive comments and compliments on this specialized unit and the increased personal contact with our citizens that it has provided. We are confident that these fine officers will continue to enhance the service provided to the community by our department.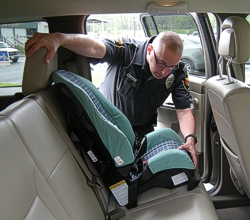 Child Passenger Safety Seat Inspection
Lower Saucon Township offers free child car seat inspections and instructions on how to properly install your child's car seat. All inspections and instructions are performed by D.A.R.E. Officer Kyle Haggerty, who is a certified Child Passenger Safety Technician.

Please call the Police Department at (610) 317-6110 to make an appointment.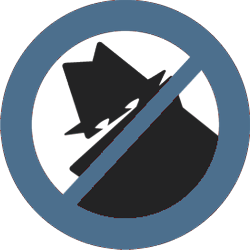 Crime Watch & Crime Prevention
Lower Saucon Township Police Department encourages and helps facilitate crime watch programs and crime prevention within Lower Saucon Township. If you are interested in finding out more about the programs or how to start one in your neighborhood, please contact one of our Crime Watch and Crime Prevention Officers.

Kyle Haggerty dare@lowersaucontownship.org
James Connell jconnell@lowersaucontownship.org