Hellertown Area Library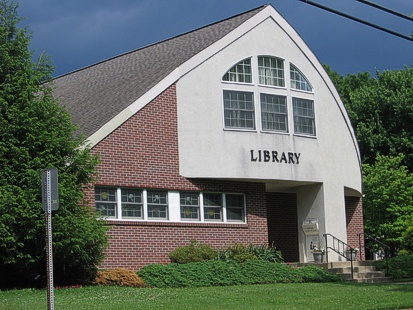 Hellertown Area Library
409 Constitution Ave
Hellertown, PA 18055
610 838-8381
www.hellertownlibrary.org

SUMMER HOURS - THE LIBRARY WILL BE OPEN 9:00 A.M. TO 1:00 P.M. ON SATURDAYS FROM NOW THROUGH AUGUST 7, 2021.

On their website, www.hellertownlibrary.org the front page is a link to Overdrive which patrons can use to borrow eBooks and eAudiobooks. There are also links for Power Library and Power Kids that offer a variety of online resources. There are lists of resources on the website, as well at www.hellertownlibrary.org/resources.html
has links for eresources that we offer all the time. These are all free with a library membership. These include Academic Search, BookFLIX, Cypress Resume, E-Books from EBSCO, The Morning Call, and Newsbank, and more. We also have a list of temporarily free resources, primarily for children and education, that are available to anyone at https://www.hellertownlibrary.org/eresources-for-learning-and-fun-at-home.html.

For those residents of Lower Saucon and Hellertown that do not have a library card, we are offering a temporary eCard at https://www.hellertownlibrary.org/elibrary-card-sign-up.html. We will email applicants a patron number that will allow access to all electronic resources as long as we are closed. After we reopen the patron will have two weeks to stop into HAL to convert the number to a full privilege card.

Library Hours are:
Monday & Wednesday - 10:00 AM to 8:00 PM
Tuesday & Thursday - 10:00 AM to 6:00 PM
Friday - 9:30 AM to 4:00 PM
Saturday - 9:00 AM to 4:00 PM
Sunday - Closed

The library staff will be in the building one half hour after closing time to allow for cleaning. Curbside requests may be picked up during that time.


Hellertown Area Library Staff
Hellertown Area Library Board of Trustees
Hellertown Representatives:



Julia Sefton, President (2022)
Ken Solt, Vice President (2022)
Andrew Hughes, Treasurer (2024)
Beth Bloss (2024)
Matt Marcincin, Council Liaison



Lower Saucon Township Representatives:



Lara Goudsouzian (2022)
Jane Styer, Secretary (2023)
Sarah Phillips (2022)
Kristen Stauffer, Council Liaison
The Hellertown Area Library Board of Trustees meets the 4th Tuesday of every month at 6:30 p.m. except December.
To view our current agenda please click here
Library Consolidation Report
The Library Consolildation Committee presented its report to the Township Council on October 2, 2013.
Click here to review the report.


Saucon Valley Library Task Force
The Saucon Valley Library Task Force concluded its task of exploring the feasibility of consolidating library services for both Lower Saucon Township and Hellertown Borough residents at the Hellertown Area Library and provided its final report to the Township and Borough Councils and to the Hellertown Area Library Board of Trustees in August 2012. The Task Force wishes to thank everyone who contributed to this process.

Click here to review the final Task Force report.